A few thoughts on my initial Google Search Generative Experience (SGE) Tests
I just got access to Google's Search Lab, and after testing Google's SGE for a couple of hours, here are my initial thoughts.
TL;DR: 
SGE's snapshots content can be repetitive with those included in search features, such as double map packs
Lists of resources included in the SGE's that I tried were not clickable, giving a bad experience
Some SGE's snapshots of complex topics were rather simplistic and didn't really fulfill the need, looking more like Featured Snippets on steroids. It didn't make any sense to add them there.
Some of the inclusions in SGE's snapshots didn't align with the intent of the query, eg. informational answer to commercial query; making it not very useful
When searching for products categories for which Google already provided a "product carousel" in search results along with product listings pages (categories, subcategories, facets, etc.), they also provided a similar expanded product carousel experience in the snapshot -making it clickable, showing the product knowledge panel when clicking on it-. Besides being repetitive, if this design is kept, due to the product carousel expanded visibility and "click" behavior, it will likely shift the traffic now going go product lists to product detail pages.
Let's go through these!
1. For broader informational queries like "Shoulder Workout", "email marketing software" or "how to teach a dog to roll over"
This query is ranked by how-to's guides, videos carousels, and image packs. The SGE result shows directly a list of exercises, my initial reaction is to click *on them* to see more about each but they're not clickable. There's a carousel with a mix of rather repetitive guides and videos listed at the right, since many of which are in the ranked results below anyway. Feels like they're trying to "squeeze" the organic results below there. Not very usable.
For terms like "email marketing software" the top organic search results are full of "best" or review guides, they now directly list the software in the SGE result. Right now these listed software products are not clickable but if they do become clickable I can see how they can hurt *a lot* the necessity to go to those guides/review sites below. Many of which are also again included in the right hand carousel.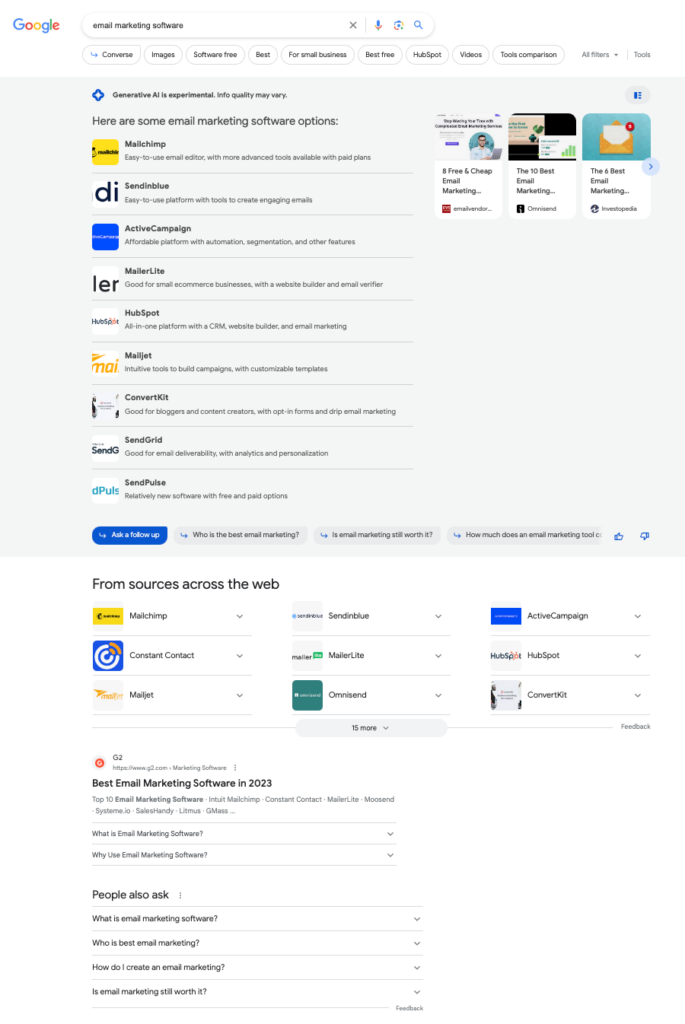 For other broader, simple informational queries like "how to teach a dog to roll over" the SGE is pretty much a "mega" featured snippet that would satisfy the more simple queries. I can definitely see how this will hurt the traffic of the top ranked "how to's" below. Many of these top ranked guides are again squeezed in the carousel at the right, which at least me would likely never click in these scenarios.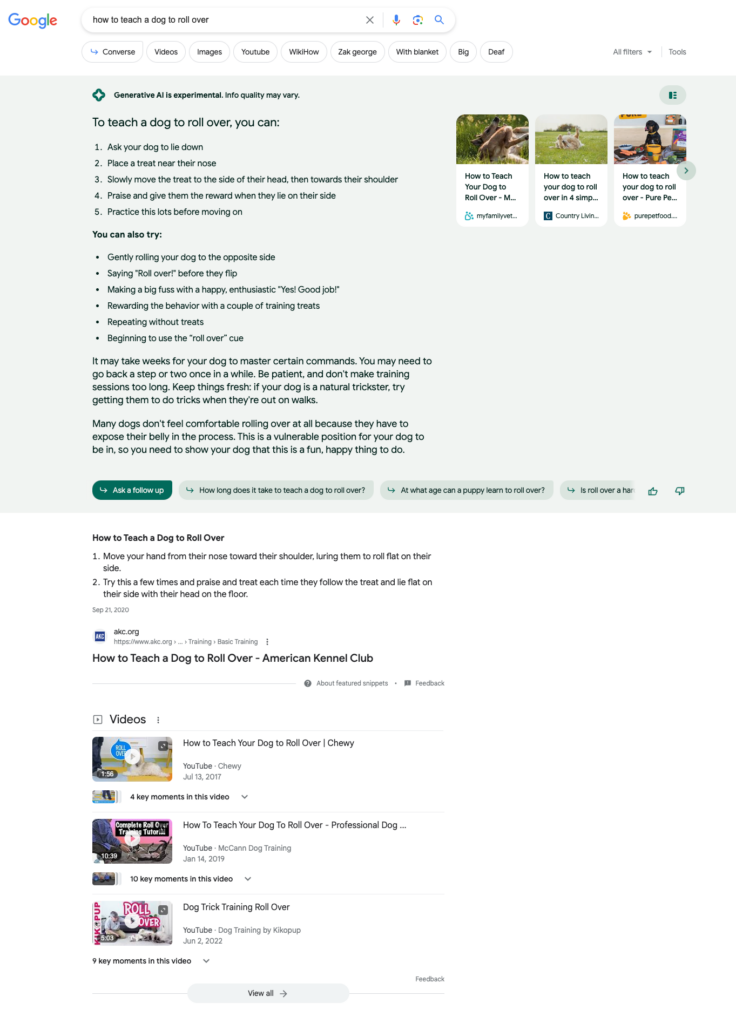 2. For broader commercial queries like "Caribbean Cruise", "Men's Jeans" or "Mass Payout Solution"
For "Caribbean cruise" which is ranked in top positions by the cruise line with the name, a mix of cruise lines relevant destination pages and travel/cruise sites listings with offers, the choice to feature in the SGE a rather informational summary about the topic instead of a more commercial oriented one is rather weird, and not so useful. Then they "squeeze" in the right carousel a lot of informational resources, which are *not* ranking in top positions.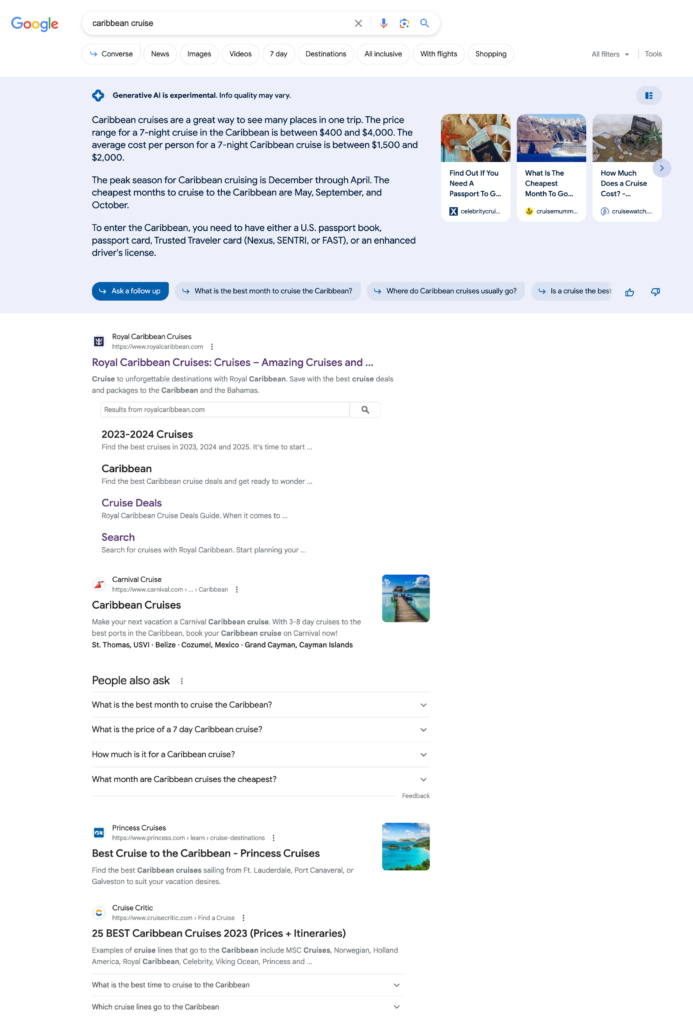 These are ranked mostly by PLPs and product carousels, the SGE tries to "simulate" the PLP experience, with a short description, links to informational guides in the right carousel, and then a pack of products which are clickable, displaying the product knowledge panel when you click. This clearly disincentivize the need of the user to go to a PLP below… they have "recreated" one there in the SGE result. If they keep it like this I see a lot of the traffic shifting from PLPs to PDPs directly in ecommerce sites.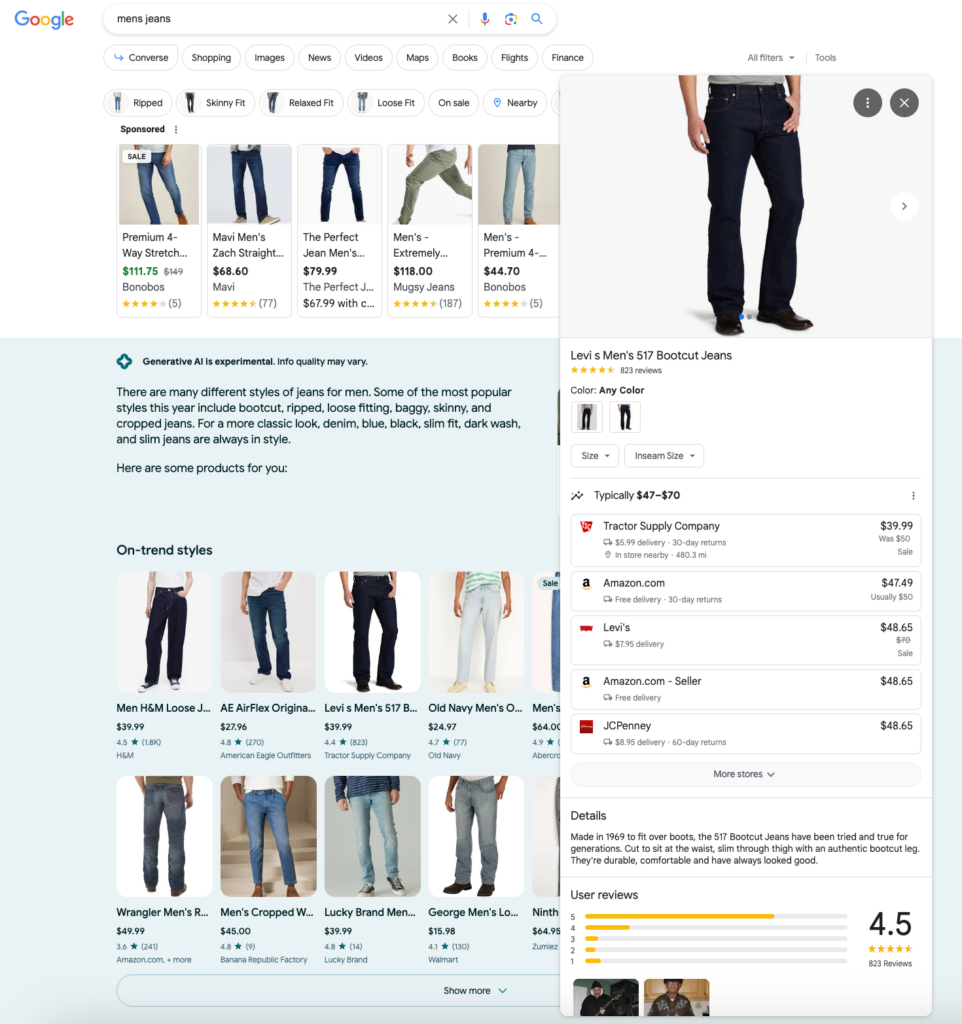 For another query like "mass payout solutions" ranked by mostly commercially focused pages featuring solutions the SGE again provides the concept, lists top options which are *not* clickable -the first thing I try to do when I see a list like this-, and then in the right-hand carousel they squeeze many of the same pages they rank below anyway. The carousel is repetitive and not very intuitive.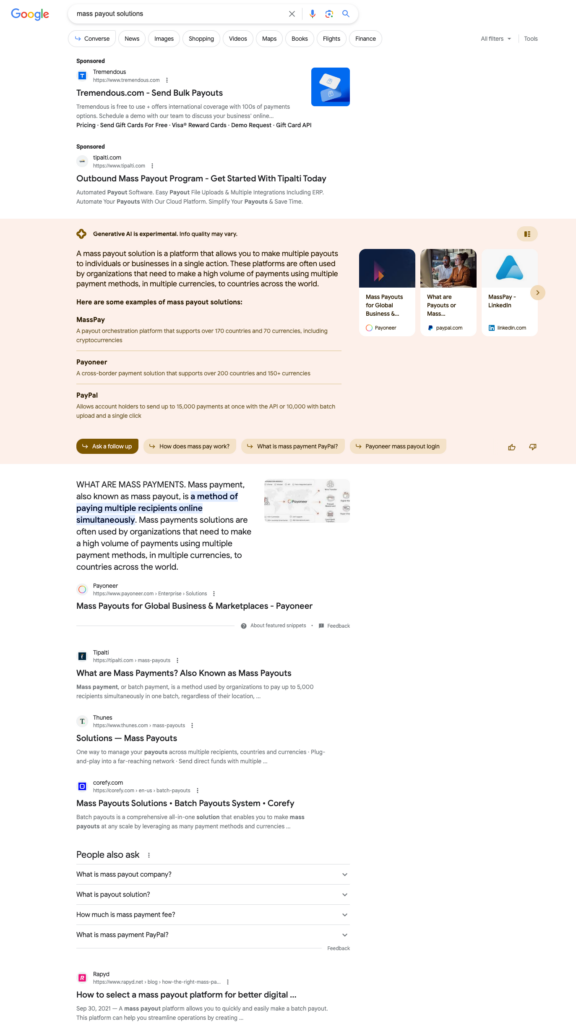 3. For localized queries like "dog park rental", "nutrition courses" or "personal training courses"
The SGE provides the least useful result I've seen: pretty much a duplication of the map pack that Google is already featuring below the first two organic search results anyway. Not useful.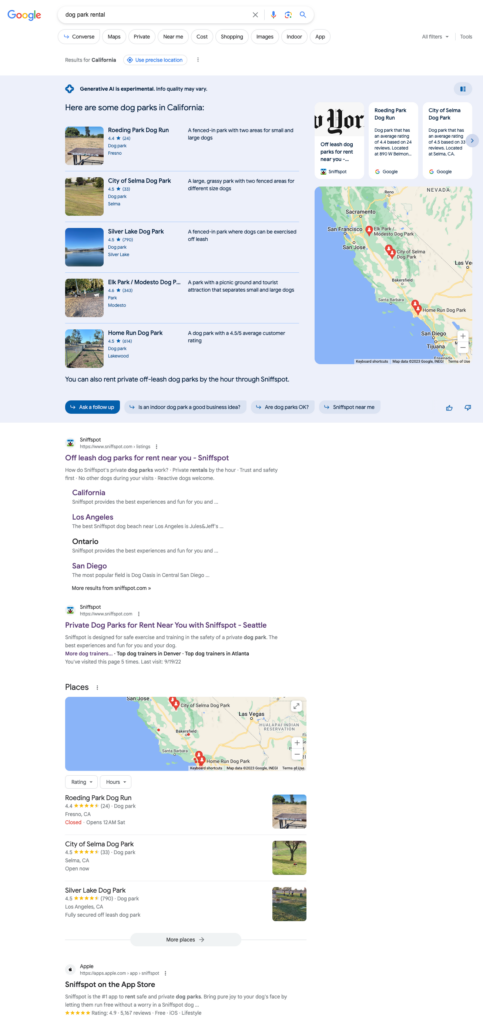 It's interesting to note how there are also SERPs that were not featuring localized related pages in organic rankings, but the SGE snapshot is pretty much showing map pack results, and in one case, also mentioning online options below it. For example, for "nutrition courses" and "personal training courses".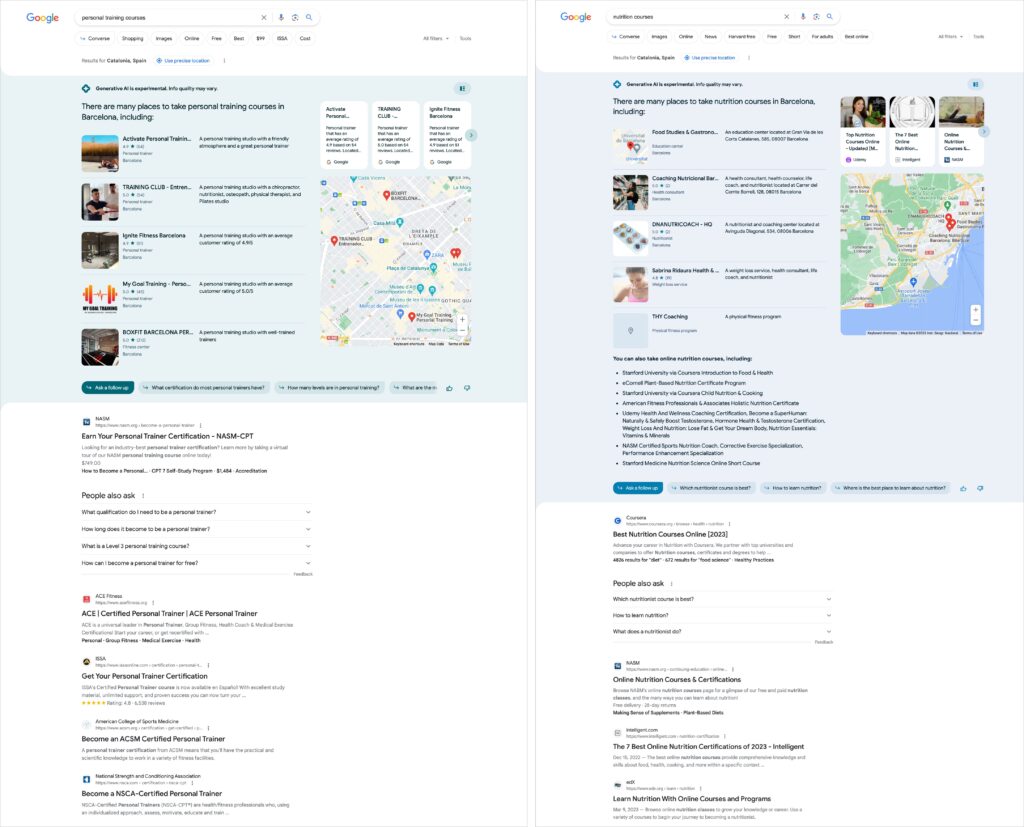 4. For specific, longer tail informational queries requiring in-depth, long form information to be satisfied like "roadmap to learn seo" and "seo beginners roadmap"
In this case the new SGE tries to summarize directly the steps to take it in bullet points, but as you can see below, it's just a "Featured Snippet" in steroids, the order doesn't make sense, your need won't be fulfilled there, and you will need to go to organic search results below anyway (or to the results featured in the carousel at the right) to get an "actually useful" roadmap to learn
SEO
.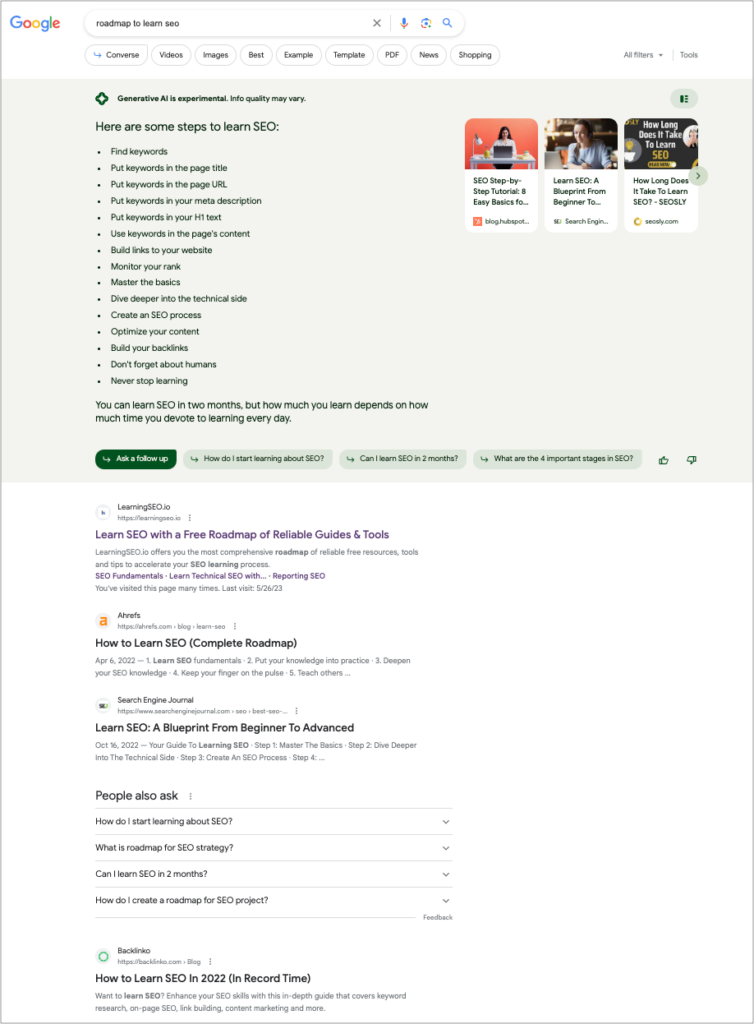 I'll continue playing around with it in the next days and shares my thoughts. 
Thanks for your feedback!